Thursday, February 23, 2006
Organization will set you free
The big tote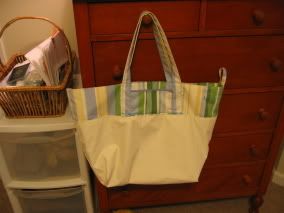 Y'all have seen the cute little totes I made using Super Eggplant's Supertutorial. But after making one cute little tote after another, I felt up to a challenge. Not only did I make this tote huge, I also dressed it up with some detail variations. Note how I made the lining much longer than the outer layer so that the extra fabric forms the top of the bag. I also folded the box bottom up and topstitched onto the right sides instead of hiding them between the two layers of the bag as usual. By making the lining longer than the outside fabric of the bag, I lowered the "hem" where they met, and therefore made inserting the handle inside this "hem" impractical. They were topstitched on, and I took the opportunity to insert a pocket between each set of handles.
Maybe some of what h just written does not make absolute sense if you have not made the totes yet. I am just realizing how limited my vocabulary is when it comes to describing my sewing work.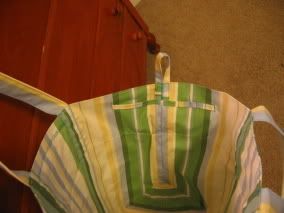 Here's a view of the inside of the tote. Note the loop I added so that this tote can be hung on a hook when it is not being used. I also added a little...doohickey...just a little strap sewn in vertically at intervals forming little loops for keeping my pens and things in. The ability to add fun little details like this on a whim is part of what makes sewing such an attractive craft to me , as supposed to, say knitting, which I also love in some ways. Now if only I can get better at describing what I'm doing.
Over all, I am pleased with this tote except for one thing -- I ran out of white thread, and used this weird peacock blue I had left over from another project instead to finish this bad boy off. It really wass too dark for the fabric, though, and every mistake in topstitching now shows. Ouch! I would be a much better seamstress if I were not so impatient! And careless! And disorganized! (Because really, there is no excuse for running out of white thread. It's disorganization). All I can say is those are all qualities I strive to improve on in my life in general as well as in my sewing, so perhaps in improving as a seamstress I can also improve my organization-fu in general.
Wednesday, February 15, 2006
Done! Finally.
Tuesday, February 14, 2006
My travails with the duffel continues...
Thursday, February 09, 2006
Bulk is the Enemy
Tuesday, February 07, 2006
Bags o' bags
Welcome, my crafty friends...