Thursday, February 09, 2006
Bulk is the Enemy
My most current project is the intriguing
mini-duffel by Savvy Seams.
There are several techniques in this bag that are new to me, so I'm taking things one step at a time. I'm using some precious fabric, a momento of sorts since I bought it in Japan when I visited my boyfriend there several years ago. We didn't take a single picture the entire time I was there, so now I only have a few pieces of fabric and a few other assorted knick-knacks to remind me of the trip.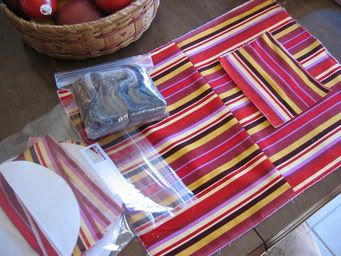 Here we are near the beginning of the project. The pieces have been cut and the "body" pieces seamed together. You can see I am using a very cute striped corduroy. I am following the pattern pretty precisely, except for adding a few pockets here and there for functionality.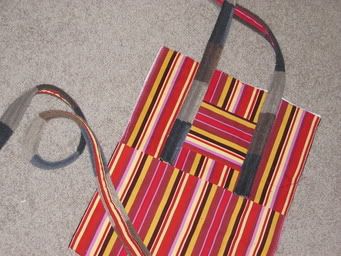 Note the strap, for which I sacrificed a Calvin Klein towel that is just the right color combo to set off the colorful cord. I added additional interest by sewing a thin strip of cord with the raw edges tucked under on the wrong side of the strap, which also covered the raw edges of the strap nicely. I get a first inkling of troubles to come when I notice how my sewing machine struggled to overcome the full thickness of 2 layers of terry and corderoy. It chugged along...but only barely.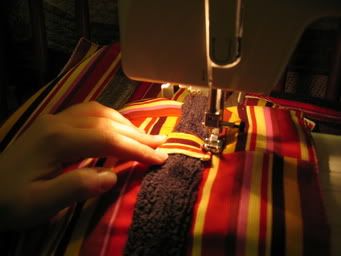 She cannae tek it any more, capt'n!
I thought I had it tough making the strap. Sewing it to the bag, and worse, applying the lashing points, were murder. At the thickest point the needle had to pierce, I guess there was two layers of terry and a whopping six layers of cord (two in the strap where it is folded under, two in the lashing point where it is folded under, two in the seam allowance) plus another layer of lining. I guess I didn't think about how I was going to deal with all that bulk while I was merrily scheming away about my awesome terry strap. Somehow, with copious use of the hand wheel, I got through it all.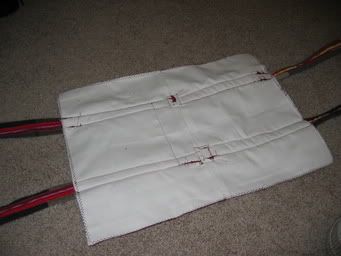 Oy vey! The nasty lumps of thread tells the sorry tale of where my sewing machine got bogged down. Luckily, the rightside looks fine, and I will bag in an interior lining to hide the lumps after the bag is finished. I've never done that before either, but there's a first time for everything, right?