Tuesday, February 14, 2006
My travails with the duffel continues...
Oy Oy Oy. this is turning out to be quite the project. I got the pocket ends made. No trouble with that.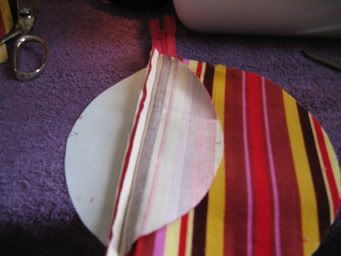 Though as you can see in the picture below, bulk yet again rears its ugly head. This thinkness is going to be the cause of much consternation later one.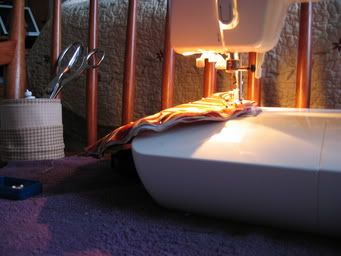 I know that applying zippers is supposed to be one of the simpler sewing skills. But I find it strangely intimidating. I think this is because I really messed up a few zipped closures in my earlier projects, and that residual fear carried over to this day. So I took my time with this, pressed whereever necessary and topstitched whereever necessary, and all the zippers in this project came out very nicely indeed.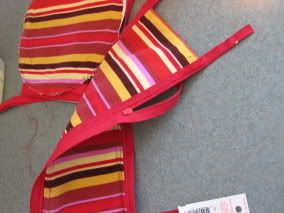 Here's my big nemesis: Gathering. You know, when you take two lines of basting and draw the bobbin thread to get the fabric to gather evenly without puckering or ugly bunching. For the longest time this technique eluded me. But I think I have it down now. First of all, make sure you have both sets of bobbin threads (from both rows of basting and from both beginning and end) in your hands before you start, or you run the risk of doing what I did the first time, and pulling the bobbin thread completely out of my work! Naturally it the gathering did not work at all. The next time I was more careful. The trick, apart from holding on to both ends of the thread, is to pull the bobbin thread only a little bit, enough to pucker up the inch or two of fabric nearest to where you are pulling the thread. Then use your fingers to smooth this puckering along the length of the basting. Then pucker the nearest inch or two again. Pucker and ease, pucker and ease. Never go too far too fast, or your thread will break and you will be left with the unpleasant job of removing your basting and starting anew.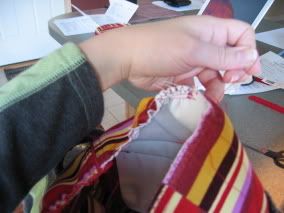 Now that I have done the gathering step (the instructions said "gather slightly." What does that mean exactly? I gathered until my thread broke and I couldnt' be bothered to do it over again.), another unpleasant task lay ahead of me -- matching up the circular pocket end with the hole in the bag end. The thickness was formidable, and I had terrible trouble with uneven stitching and too much fullness in the pocket end fabric that refused to get eased into the bag end. The two layers of fabric also refused to stay together, shifting over each other as I sewed.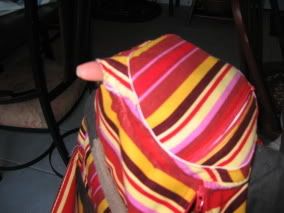 As you can see, I was so off that some of my stitching failed to join the two pieces of fabric altogether, leaving me with a sad gaping hole. I had to take all the stitching out to redo.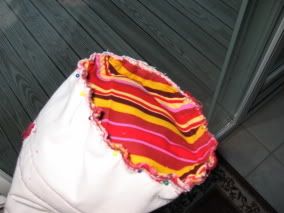 This time I was smarter. I pinned all the way around parallel to the seam as opposed to perpendicular to it. I figured this will give me more control with sliding layers of fabrics. What also helped was placing the layer of fabric that seem to have more fullness (the pocket end) underneath -- next to the feed dogs. The rational is that the feed dogs tend to drag the fabric layer next to it into the needle at a faster rate than the layer of fabric on top, thus eating up the extra fullness and doing my easing for me.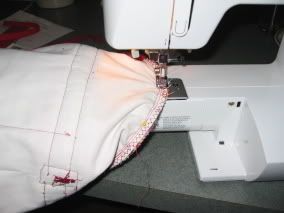 That's the theory anyhow. This time the stitching turned out fine. There was still some evidence of puckering, but I figure I did OK. I really should have stopped my sewing session at this point. I was tired, I was losing my concentration, but I pressed on because the project seemed so close from getting done. I grabbed my bias binding and began to apply it to the raw edge inside the bag with a zigzag stitch. What a disaster -- it was such an easy operation, but I botched it through being rushed and now it looks terrible and uneven. "Well", I thought grumpily, "it's going to be on the inside of the bag. Who's going to look there?" Just goes to show...always stop what you're doing and pack up when that "dum...dum...dum...get it done...done...done..." tune starts playing in your head.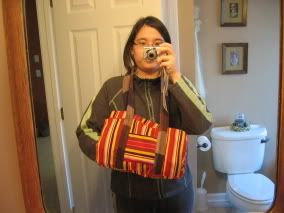 This is me with my almost-done bag. I need to apply the other bag end along with some velcro, and that will be it. But I'll be saving it for another session.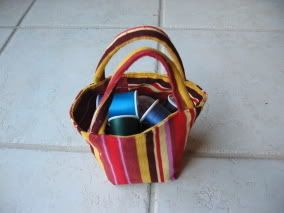 This is another reason why I'm such a slow sewer. I get distracted with little side projects like this cute little square-bottomed bucket tote which I now use to hold my threads.