Sunday, March 05, 2006
The Macguyver skirt
I call this my Macguyver skirt because the construction methods were unorthodox, but everything worked. Believe it or not, the material was a odd scrap of herringbone suiting that cost less than two dollars. I bought it thinking that I was going to use a 6 gore skirt pattern I had in my stash, only to find that it came up short.
Thinking that I had very little to lose, I folded the fabric in half, then in half again. I measured my waist and my hips and divided the number which shall remain a secret by four. That number, plus some ease, gave me an idea of how wide the gores needed to be at the waist and hips. I made my marks with chalk, and, cutting through all four layers of fabric at once, I cut the gores. When I basted the panels together I was delighted to find that the curvature was a perfect fit in the rear. I then made the front flat and, reasonably happy with the fit, stitched in the zipper and finished the upper edge by enclosing in a simple waistband and hand hemmed the lower edge. Skirt done. It looks expensive. Or at the very least more expensive than $2.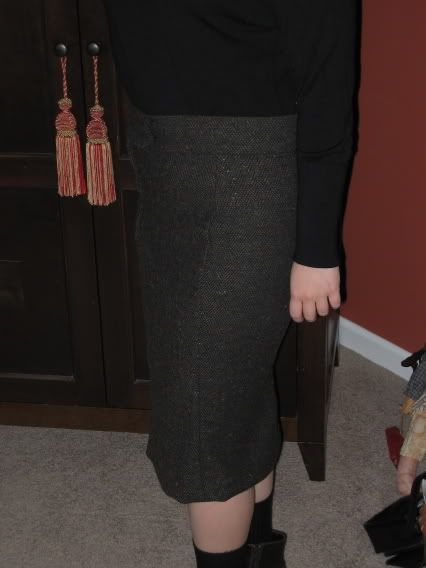 I'm sure the savvy sewers among you would be thinking to yourself around this point "hmm...a 4 gored skirt? Why is it that I never see a 4 gored skirt..." Well, the reason is that there is no good place to put the zipper if you still want to have a flat panel for the front. I did a reasonably good job lapping the zipper in the side-front, but it still looked kind of funny until I added the waistband, which was more of a feature and helped the funny zipper placement fade into the background.
It is itchy though. I need to put in a lining before I feel like I can wear this out.